Taxi3000dispatch is an application for efficient call and trip management. It is used to enter data received over telephone, handing over routs to an available driver and overseeing the availability of vehicles. It also supports pre-order entry and management as well as statistics. Issuing of monthly bills for regular clients or other analyses are in this way made with ease.
<![if !word & !ppt & !excel & !vml]>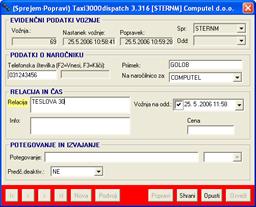 <![endif]>
Advantages:
-  clear overview,
-  intuitive user interface,
-  error reduction,
-  easy billing,
-  pre-booking sound alerts,
-  increased efficiency of work processes,
-  no need for paper forms,
-  independency from the telecommunication infrastructure.
<![if !word & !ppt & !excel & !vml]>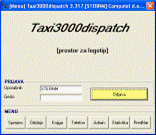 <![endif]>
<![if !word & !ppt & !excel & !vml]>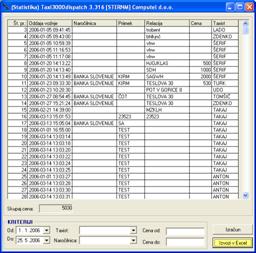 <![endif]>
Usage:
-  taxi companies and taxi societies,
-  the team can consist of one or more
   dispatchers,
-  fast and easy data input with an ability of automatic caller number intake,
-  clear overview of available vehicles, trip orders waiting and trips in progress,
- easy trip hand-over triggered manually or automatically
-  easy pre-booking of trips with sound alerts when the trip is to be dispatched,
-  telephone book with preconfigured customers telephone numbers for speed dialing,
- easy administration,
-  monthly, weekly, daily reports.