Command vehicle PV2
At the beginning of the 2009 the command vehicle, named PV2, was put in service for managing the events of catastrophic scale.
<![if !word & !ppt & !excel & !vml]>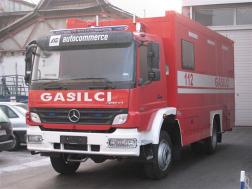 <![endif]>
Our company had been involved at constructing that vehicle from the very beginning of the project with our advising experience regarding information-communication systems. Consortium of firms then made the final product - command vehicle PV2 with all the contemporary equipment.
Communication architecture in PV2
Command vehicle PV2 has two fully equipped dispatch workplaces with all the necessary information-communication support in the cabin B. It has six workplaces for intervention leaders - managers with full tech support in the cabin C.
<![if !word & !ppt & !excel & !vml]>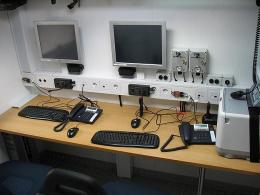 <![endif]>
The vehicle can establish data network connections with the world via satellite communication system Inmarsat, as well as via commercial mobile network providers on different data rates of mobile data transfer (GPRS, EDGE, UMTS or HSDPA).
Voice communications are managed by the Radio system NDC-Dicom++ and professional communication server Siemens Hipath. Communications can be established by using public telephone lines, GSM gateway or the Inmarsat satellite communication system.
All telecommunications can be easily managed by computer programs program NDC-Dicom++ and CtiClient. Usage of the programs is simple since touch screen enables the engage functions by one simple click. 
Command vehicle PV2 is for terrain use, where commercial means of communications are not available. In this regard the vehicle provides VHF and UHF radio communications by using digital radios (MOTOTRBO), that are voice and data transfer enabled. Dispatchers and intervention commanders can locate forces in the area by using GIS system and program for tracking on their laptops. In that way they can be more efficient in controlling the activities to the rescue teams on terrain.
<![if !word & !ppt & !excel & !vml]>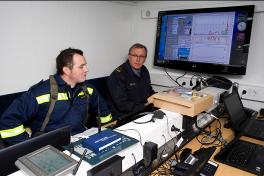 <![endif]>
Commanders use laptops for their work, which can be connected to a big screen LCD displays on the walls of the command center. By Using the program for standard operating procedures (SOP) they document their activities when commanding forces on terrain.